---
Commutamatic II
Maxion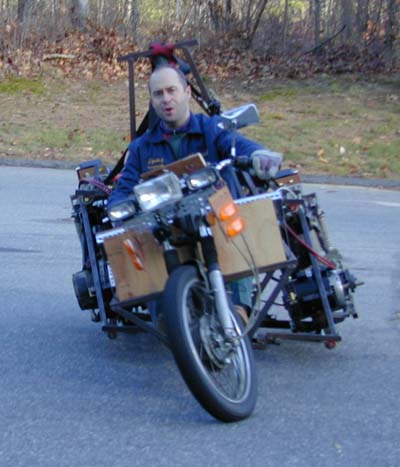 "I'll tell you what the problem is. There's a loose nut behind the wheel."
-Ture "Hank" Hagman
---
The story of the Maxion, a TTWZEV. (That's a "tilting three-wheeled zero-emissions vehicle.")

Chapter One, in which the chassis is completed and then cut apart.
Chapter Two, in which the chassis is converted to tiltable.
Chapter Three, in which the thing can roll.
Chapter Four, in which the chassis is improved and the drive is refined.
Chapter Five, in which the the vehicle is street legal and learns to lean.
Chapter Six, in which the cold months send us indoors to improve the vehicle.
Chapter Seven, in which the hot summer sun sees tilting runs.
Chapter Eight, in which the approach of autumn prompts simplification.
Chapter Nine, in which the Maxion is disassembled.



---
...and if you don't know what a "tilter" is, check out the Tilting Three-Wheeler Page.
---
Back to Back to Max Hall's homepage.
Send me email!
---