---
Max's Scooter Page
Other People's Scooters
last updated 3/03
Your comments are always welcome. Send me email!
---
Some visitors share their scooters here. Let's see now…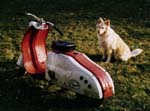 Chris O. has this beautiful Mitsubishi Silver Pigeon, unrestored in all its pristine beauty. More on that one here.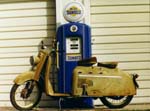 Daryl Shooks has this rare example of a French-built German post-war scooter. More on that one here.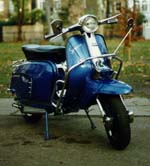 Declan has a fine lookin' Lambretta kickin' around the UK. More on that one here.
---
1998, Xan Kowalsky sends "more wood for burning."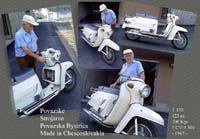 ---
Spring '03...

"I Thought I'd send you a pic of my ex scoot. I f you wanted to add it to your page. Poss one of the last Indian GP's to come out of Lucknow. Still Miss Her.

Rich"
---
Mike "Bikemicro" sent in this pic of his restored topper in November 2000. Beautiful bike! He writes, "MAX, HERE IS A PICTURE OF MY 1961 HARLEY TOPPER SCOOTER THAT I RESTORED. IT TOOK ME ABOUT 5 WEEKS TO RESTORE. I LIVE IN SO ALABAMA USA. THANKS FOR LETTING ME SHARE THIS WITH YOU. "

No, thank you!
---
Salisbury
| | |
| --- | --- |
| | Rare indeed. Thanks, BTRUE57, for sharing these pix of you '47s. |
---
I got a note from Bernd, in Beelitz, Germany, who wrote, "Hi Max, my english is tiny, please have mercy with it! I´m Bernd (47) from Beelitz/Germany. Today i found your amazing homepage while surfing in bella parts... As you, we also love ancient scooters, meanwhile for more than 20 years. But not only these, our favorite oldtimer is at the´moment our 76 GMC eleganza... And our well loved 1964 Aermacchi sprint scrambler... I don´t have any experience yet with trading overseas, but I´m forced a bit ( by lovely wife, of course) to reduce our collection to only 20 or so. So enjoy what we have to offer. But also if those offers should bore you: In any way I would like to get a short response from you: the business is not the most important; but knowing that there are other "freaks" like we ourselfes all over the planet... Bye, Bernd P.S. If you like to surf to a really amazing homepage, watch www.scootermaniac.org! "

Thanks for writing, Bernd, and here's part of his beautiful collection! If you want to reach him, he is magdeburgs@esc24.de

Contessa.

Diana.

KTM.

MV.

Rolleta.
---
| | | | | | | | | |
| --- | --- | --- | --- | --- | --- | --- | --- | --- |
| | | | | | | | | |
| My Scooters | Other People's Scooters | Quotations and Poems about Scooters | Three-Wheelers | People-Powered Vehicles | Scooter and Odd Car Organizations | Help in finding scooters and parts | Links | Bumperstickers |
Send Max email
---