---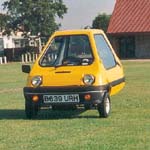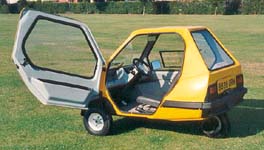 Bamby
Dave sent this in...

"Thought you might like a picture of my 1984 Bamby. It was originanally fitted with a 50cc moped engine, but I changed it to electric but it only done 10 miles at 40 mph .It is now fitted with a 125cc Piaggio twist-and-go engine, it now does about 55mph.

"We live just outside London, England.The Bamby was made in Hull which is about halfway up England on the east coast. It is one of only 35 that were made by a house painter named Allan someone. It has got disc brakes on the front only, they are off a go-kart and bloody useless,but the handbrake works quite well."

Thanks, Dave, for sharing this! Dave can be reached at this e-ddress.


---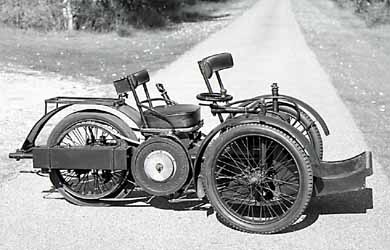 Leon Bollee
I got to see an example of this bike at the Nataional Auto Museum in Reno, NV.
"Leon Bollee was the first in France to build small gasoline powered vehicles, beginning to do so in 1895. This voiturette as he called it, was introduced in the 1896 Paris-Marseille-Paris race. With three speeds of 6-12-18 mph, it was one of the fastest of its type. In 1897 modified versions won the Paris-Dieppe race at 24 mph and the Paris-Trouville race at 28 mph.

Specifications: tandem two-seat tri-car;engine four-cycle, single-cylinder,air-cooled, with hot tube ignition;bore 76 mm., stroke 145 mm., displacement 650 cc., 2.5 hp."

---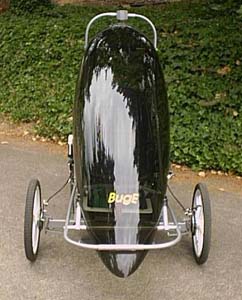 BugE

Mark Murphy of Blue Sky Design sent in this picture of his BugE, "an ultralight grocery getter," he says. Pretty! Mike's company, Blue Sky Design (http://blueskydsn.com/) does some cool vehicular work!
---
Honda Bubu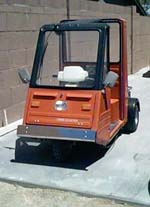 I got an email from a nice guy in Arizona with this rare and delightful vehicle: the Honda Bubu Cabin Scooter. What a car! His only has 160 miles on the odometer. Sweet. In addition, the scooter has: forward and reverse (single speed), 50cc engine, instruments read in English, street legal (although top speed is a blistering 35mph) He wants to know more about it. Tell him, and tell me. Send email to Frank Beck at Porschport@aol.com.
---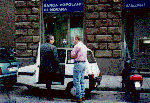 Dig this fine city car. 50cc engine, like a moped, this three-wheeled car is built by Cassalini on an Ape 50 chassis, and is called a Sulky. Because of the engine's diminutive size, this Florentine driver needed no license. He has one, because his other car is a Mercedes, but my point is the same.. The body is fiberglass in this case; we also saw sheet-metal Sulkies elsewhere in Italy.
---
The California Commuter

You can read about the The California Commuter built by the very inventive Doug Malewicki, this vehicle is in the Guiness Book of World Records for being the highest-mileage vehicle on record. For instance: The 157.192 "MPG at 55 MPH gasoline record" was set on a trip from Los Angeles to San Francisco where the machine was featured at the San Francisco International Auto Show. Just 2.87 gallons to travel 451.3 miles! It's not in production. Too bad. Thanks, Jeff Bequette, for noting the omission of this amazing three-wheeler and pointing me in its direction.


---
The CycleCar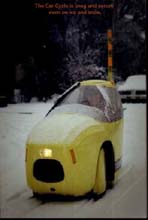 Bob Stuart begins, "The Car-Cycle X-4 was built as an experimental prototype in 1986-87. In '88 it won two second places and one third place in the IHPVA Practical Vehicle Championships in Visalia, California. In '96 it won that event outright in Las Vegas." Read much, much more! http://www.microship.com/bobstuart/carcycle.html

Above is the CC7.
---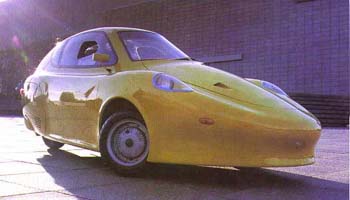 Dolphin, 2000

Andrew G. of Newcastle Upon Tyne sent me notice of this interesting trike, along with the text of an article from the February 2000 edition of CAR Magazine introducing it. (See below.) Google doesn't find anything on it anymore. Woe.
Title: STUDLY DUCKING [Nope, I don't understand that either]

Sub-title: You'll raise smiles rather than scowls with the Dolphin, a
105mpg car that won't hold up traffic.

>From the front it looks like something you'd find chocolate buttons inside
on Easter Sunday (that eye-searing yellow, incidentally, is the same paint
code used for Ferraris and TVRs). But take a look at that profile. It's
streamlined, like a Spitfire canopy grafted onto a Fiat Barchetta, or even
a Porsche that someone left on an element.

It's the Dolphin and it does 105mpg and 65mpg. Okay, it's often hard to
know how seriously to take these enviro-hero cars. Usually it's quite safe
to deposit them in the wicker rare-groove file. Aside from its quite sporty
looks, however, the Dolphin has a real design pedigree. It's the work of
Bob Curl, who - together with McLaren F1 mastermind and CAR columnist
Gordon Murray - was responsible for the 1992 Rocket (150mph and 35mpg).
Curl has also designed F3 and Le Mans cars - the 1982 Dome car and 1978 I
Bec entrant - and all Lord Hesketh's Formula One cars between 1973 and
1978.

Nine years ago, Curl started thinking about what advantages the streamlined
technology used for racing cars could bring to a fuel-efficient personal
transport vehicle, and how to pitch it so it would sell. 'The secret of
these sorts of cars is that you have to want to get into them to have a
go,' Curl says. 'And, once you're in and driving it, you shouldn't feel
like you're holding people up.'

The former was the reason behind the striking blue interior. It actually
seats two, with the rear passenger's legs going either side of the driver's
seat. It IS attractive and, weighing 215kg, quite quick enough with its
200cc two-stroke Piaggio scooter engine. The steering is pin-sharp and even
the four-speed manual gearbox is enjoyable slotty. There's no reverse, but
Curl says that would be corrected for production versions.

It's a lot of fun to drive, and the one-wheeled rear end is surprisingly
stable, although it'll entertain with a bit of speed up and some lock on.

Ready for the road, Curl says it would sell for between GBP 3000 and 5000
[USD 4800 and 8000] and cost about GBP 1000 [USD 1600] per year to run.

PAUL GREGORY

(For more information, call Bob Curl on +44 1424 882 358)
---
The Electric Car Co. of CA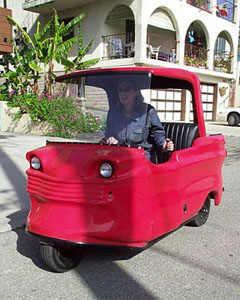 Atti sent this in in April of 2001. He writes, "Made by the Electric Car Company of Long Beach, CA. Originally sold for $945. Top speed 18mph, with a range of 30-35 miles between charges. An earlier metal example was also made that was not as 'attractive'."
Thanks, Atti!

---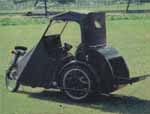 The Essex 50

This was sent to me by an inspiring tilting trike builder in Brazil, Antonio C. B. Sanjuan. This 1950 trike had a 200 cc motor. It's a nice little runabout, I think. Thanks, Antonio!
---
Fabrique National Model A.S. 24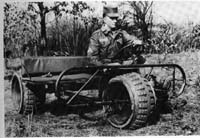 the Belgian paratroopers work with this beast. Check it OUT!


---
Kayak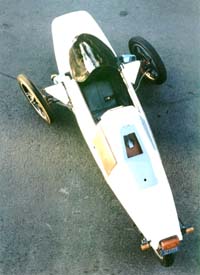 Mark Murphy of Blue Sky Design sent in this picture of his Kayak, which "was an NEA grant for a
minimum vehicle powered by a 250 honda motorcycle," he says. Cool. Mike's company, Blue Sky Design (http://blueskydsn.com/) does some really interesting work, including Electrathon cars.
---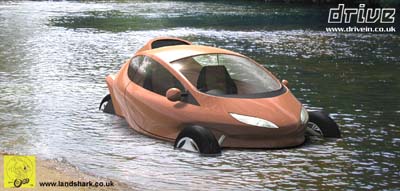 Landshark
How about an amphibious trike that can go 200 mph on land, and 50 mph on water? That's what's brewing at Landshark in the UK. Find out more: http://www.landshark.co.uk/
---
Marketeer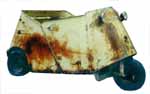 Alert reader and collector Chip H. sent pictures of his Marketeer. Chip writes:
I recently purchased a lil' beauty called a Marketeer. It was a street legal grocery errand vehicle. It is electric and has a separate transfomer made in El Monte California. It has 2 rear wheels and one in front. The body is steel with two side doors and one rear locking parcel door. It has 2 head lights, 2 tail lights and 1 backup light. It can go forward or reverse.Definitely not homemade. Judging by its campy styling my guess is that its 30 to 40 years old. Its missing only its "Jolly" like canopy and frame and its 2-plane or split wind screen.
If you click on the image above, you can see the little "wagon handle" steering and the little cargo space door. If anyone can help Chip out with information about these vehicles, he'd be grateful, and so would I. Chip can be reached at: charlan@webtv.net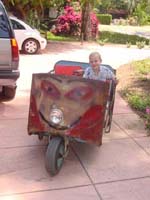 More on the Marketeer: Chris H. bought one. He writes: "I bought $275.00 worth of batteries and it runs like a champ! My kids love it!"
And more... Alden Jewel sent such a nice stach of reprints of brochures that I have created a Marketeer page. Thanks, Alden!
---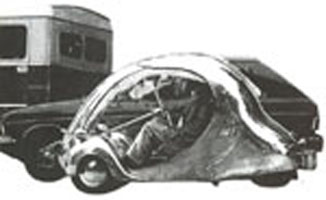 L'Oeuf by Paul Arzens, 1942
Jay H. reminded me a few years ago about a plexiglas and aluminum vehicle created by French artist Paul Arzen. I got to see the real thing in the trasportation museum at Mulhouse in France. Quite a car.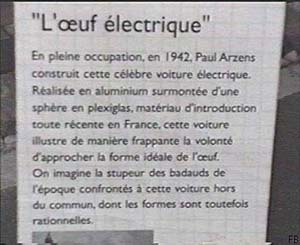 I translate here from my limited knowledge of French: "The Electric Egg. During the occupation, in 1942, Paul Arzens built this celebrated electric car. Made from sphere of plexiglas mounted on aluminum, materials only recently introduced in France, this car illustrates the striking manner the wish to approach the ideal form of the egg. One imagines the stupor of bystanders of the era at seing this uncommon car, however rational the shape."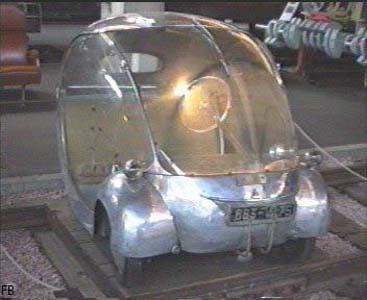 ---
Here's one way the Italians deliver mail.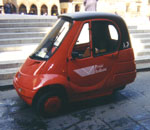 The Pasquale three-wheeler.

Life in Italy sure is the best. Indeed, Dr. Pasquali has been in contact, but now his web address (http://www.webmood.com/pasquali/) seems to be dead. What a shame! Dr. Pasquali, or anyone who knows his new web home, send me an update.
---
The Pumpkinseed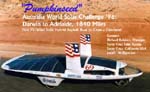 You can read about the Pumpkinseed At Rich Rahders' web site on the subject. Interesting guy! Interesting all-solar vehicle! (Those fins help speed it along if there is any non-frontal wind.) Thanks, Rich Rahders!
---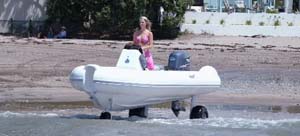 Sealegs amphibious watercraft

From New Zealand, motorboats with retractable electric drive. Wooo! Their site is http://sealegs.co.nz/
---
The Dymaxion Car.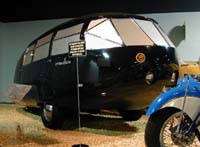 R. Buckminster Fuller's Dymaxion Car.
---
An odd little trike.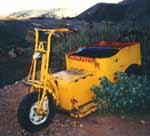 What a strange thing place Crown King Mine and Gost Town is. Yes, strange, but wonderful. This place on the edge of an Arizona town called Jerome, whose population was 15,000 or so in its heydey and only 400 now. (The town is on a high hillside... note the background.) But some creative people have pulled together machinery and vehicles from all over the state, including this little putt-putt. I have seen these things in industrial settings, at huge plants where, say, a mechanic might have to travel many miles in the course of a day.
---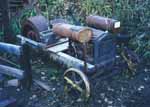 Model T Kit Tractor

Also at the Crown King Mine and Gost Town was this 1915 Ford Model T converted, according to the sign, to a farm tractor using a kit available back then. The front wheels are all steel with a large ridge in the middle for good mud and dirt steering. The rear wheel is almost a foot wide (under that sheet metal fender), and has large riveted traction teeth across it. Good load bearing (large surface area) but without losing traction. You have got to love a wood-frame vehicle!
---
Roadrunner Galaxie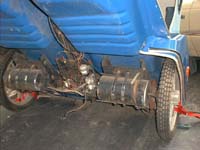 Dave L. bought this sweet electric three-wheeler. What a pip! In a series of emails, we discover the nature of the Roadrunner Galaxie:
"I have just purchased an Electric three wheel vehicle called - Roadrunner
Galaxie - It has a ID plate that says it was made in 1981. In general
appearance when you walk up to it, it looks like a golf cart but doesn't have
a place to put the clubs. I was told that it will run at approx. 40 - 45 mph.
It has 2 motors, one on each rear wheel."
"It has places for 4 batteries. one on each side in the front and one behind each seat in the back.That makes a total of 4 Batteries. This is what makes me think that maybe it had 2 - 6volt and 2 - 12v batteries. The foot switch (speed control) has microswitchs that are actuated by a roller."
---