One
rione,

two

rioni,

three

rioni,

four

...
The Sections of Rome
There are 20
rioni
(neighborhoods) cut from the part of Rome within the Aurelian walls. Two more, Borgo and Prati, form the 22
rioni
of Rome. Here's a map of the city and its sections. (I lifted this from the web, then added detail myself.) These are sort of like the
arrondisments
of Paris, but much smaller than the burroughs of New York.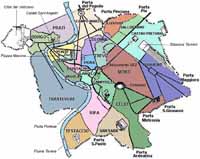 All of the public trash bins have handsome cast metal badges of the rioni's symbols. Each
rione
symbol has some historical reference, most of which are obvious. Celio, though, for instance, is as unexpected as it is fascinating, with its African-looking woman with elephant-inspired headwear.
Colonna
, which means 'column,' is also the family name of the old Roman aristocracy. And why a mirror, or is it a magnifying glass, for Sallustiano?

R.01
Monti

R.02
Trevi

R.03
Colonna

R.04
Campomarzio

R.05
Ponte

R.06
Parione

R.07
Regola

R.08
Sant'Eustachio

R.09
Pigna

R.10
Campitelli

R.11
Sant'Angelo

R.12
Ripa

R.13
Trastevere

R.14
Borgo

R.15
Esquilino

R.16
Ludovisi

R.17
Sallustiano

R.18
Castropretorio

R.19
Celio

R.20
Testaccio

R.21
Santo Saba

R.22
Prati
---