---
TTW - Tilting Three Wheelers
Guest Page
Wayne SooHoo's Aileron Trikes
last updated 09/01/2004
---
Pics of the pre-production Aileron.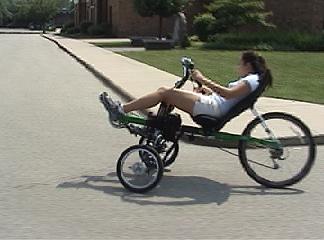 New Aileron SWB tadpole TTW. Built to a donor Bacchetta bike chassis. This looks like it will make it to production.

---
March 2002. Quicktime video of the Aileron in action. (1.35 MB.)
---
Electric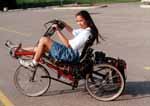 Aileron trike...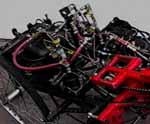 ... with integrated multimode air driven roll control
1F3T, Automatic, Electric, 1 seat, Open. Wayne SooHoo powered this version of his Alieron trike and included integrated multimode air driven roll control. Roll power just in time. (You may have seen his human-powered version on the human-powered TTW page.)Wayne is available on a consulting basis; he can be contacted at this e-ddress.
---
Human Powered
Wayne SooHoo's Zoetec Aileron Trike
2F3T. A very sophisticated, yet simple, TTW HPV. Wayne SooHoo is licensing this very interesting technology. Any interest? He's wsoohoo@ameritech.net. Give him a shout.
The following is the text from the article which accompanied the picture above, which, if you like, you can click for an enlargement.
Three-wheeled wonder
Crystal Lake man builds tricycle that tilts through corners

By Dean Weaver
The Northwest Herald

CRYSTAL LAKE--- Imagine sitting inside a three-wheeled, go cart-like machine and pedaling to speeds in excess of 25 mph.
Legs extended to the crankcase in front of you. Hands gripping a T-shaped steering bar that rakes back toward your chest. Suddenly, the pavement ends and you push on a handgrip. There is no fear of tipping or sliding.
The bike tilts sideways to instantly turn 180 degrees in just a few feet. Your knee almost scrapes the ground, but you stay firmly planted in the seat.
When you stop, the bike rights itself and you don't even have to put your foot down to hold it up.
Wayne Soo Hoo of Crystal Lake has built such a machine.
"In 1972, it just popped into my head to have a vehicle that had the stability of a car, but could turn like a bicycle," he said.
Soo Hoo, 47, has designed and built his dream and named it the Zoetec Aileron Trike. He has been working on his latest design since 1994. The
three-wheeled pedaling machine performs like a tricycle at slow speed.
At higher speeds, the tricycle's frame can be unlocked to pivot 30 degrees to each side of center, allowing the rider and machine to lean together through corners.
It is only 3 feet long and 2 feet, 2 inches wide.
The rider, frame and wheels all tilt in unison to speed cornering.
The pedals power one wheel behind the seat while two smaller wheels provide steering control up front like a car.
Soo Hoo patented his design last year. His ingenuity caught the attention of catalog-retailer Hammacher Schlemmer, a niche retailer that markets
gadgets. Soo Hoo is one of 18 finalists in the company's Search for Invention contest. The winner gets $5,000.
Soo Hoo said winning the money would be a great perk for 20 years of effort.
But what he really wants is recognition and redemption. He wants affirmation from other engineers that there is a better way to build bicycles, motorcycles, and automobiles.
"I want people to admit I'm right," he said with a grin.
The trike's price could cost about 50 percent more than a conventional recumbent bicycle, Soo Hoo said. First, he must find a manufacturer who can mass-produce his project.
There is no market for the bike, but there could be. Soo Hoo said neighborhood children beg to ride the bike and so do their dads.
"I can't explain it. But a lot of men, especially those in their 30s and 40s, tell me they want it," he said. "It just appeals to people, you have to
ride it to understand how it feels. They love it."
It also could be used to help handicapped children learn to ride a bike. The suspension design could be used to build a smaller class of automobiles.
Finding a better way
The idea of a tilting tricycle is not new.
Everyone from race car builders to bicycle designers has tried to find a way to improve balance, stability, and cornering by finding a way to make things lean.
Mercedes-Benz engineers are building a prototype three-wheeled vehicle with a 100- horsepower engine that leans like Soo Hoo's bicycle, but automotive journalists claim its maze of electronics and hydraulics makes it impractical.
Soo Hoo believes he has found a simpler solution, but it took him years of experimenting with complex designs to discover it.
Soo Hoo has built four tricycles since 1994. A photo album is a testament to his failures.
There was the four-wheeled leaning vehicle powered by a lawn-mower engine he described as "too dangerous." A tricycle with electronic motors, a car battery and air-powered shocks was "too heavy" at 150 pounds.
He then experimented with parts from a Ford Pinto and helicopters. Nothing worked, but each sparked another idea.
"People think you just wake up with these ideas," he said. "But I came up with my design because I've tried everything else and nothing worked."
Soo Hoo's daytime job is a computer network troubleshooter. He worked for Texas Instruments and the Federal Reserve Bank, but now runs a onsulting business out of his home so he can dedicate more time to inventing.
The solution hit him in 1994, while he was reading a book about mechanical control devices for automobiles. It was a picture of a ratcheting device he thought would be ideal to control the bike's lean.
"When I finally got it, I ran out into the garage in my underwear to figure out the tensioning system," Soo Hoo said.
His revelation was a type of spring clutch that provided a way for the rider to control the trike's lean.
Soo Hoo began cutting and welding metal frame tubes in his two-car garage. Two weeks later, he had a working prototype of his leaning tricycle.
Eventually, he built a moving handlebar that controls four bicycle-shifter cables. The handlebar is the nerve stem of the machine.
His latest design is simple enough that a person needs only five minutes to learn how to ride it.
The design is logical, but Soo Hoo said it was more work than inspiration that led him to his final prototype.
"You have to be terrible and filled with idiotic ideas if you're going to get anywhere," Soo Hoo said. "It's a constant learning process."
Marketing his invention
It is fun to ride, but others see that it could be more than just a recreational item.
An upright version with a basket could provide the perfect get-about vehicle for the narrow, congested streets of Europe and southeast Asia.
Retired University of Illinois Professor Richard Klein said he has seen Soo Hoo's design and believes it can be used to teach handicapped children to ride bicycles.
Klein, who taught mechanical engineering, has spent the past 10 years building bikes with fatter tires that help children with autism and Down's syndrome learn to ride bicycles. Training wheels are a crude device that often does not work.
He believes Soo Hoo's bike could help children with special needs transition to conventional bikes. Schools and park districts might be willing to buy the machines to help children learn to ride, Klein said.
"Wayne's bike has incredible promise because it can be adjusted to accommodate the needs of several different children," he said.
Soo Hoo's designs also could be used to build a new class of fuel-efficient, low-pollution automobiles for a planet that becomes increasingly crowded. But Soo Hoo admits his passion for invention is much more self-serving.
He lives for those split seconds when thoughts in his mind gel into new ideas.
"One thing about inventing is that you get these hits," he said. "It's a better high that you could get from any drug, and it comes on like lightning."
Soo Hoo's latest hit of inspiration is to take his suspension design and modify it with a hydraulic system to build a machine powered by a motorcycle engine.
"Can you imagine what this thing would be like with more power?" he asks.
---
There are five parts to this site:
And a note on intellectual property and copyright: as far as I know, everything on this page is available elsewhere on the web, and all sources are cited. Complaints and questions are always encouraged, email me.
---